This is how 123GOLD works
Step 2 -
Professional consultation
We accompany you in the individualization of your wedding rings.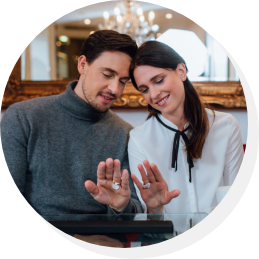 For professional consultation, in addition to the classic on-site consultation also a consultation via video from a local store of your choice is available. Of course, you can also get this from our expert online store team, who will also answer any questions you may have via chat or on the phone.
Take advantage of the many years of experience of our consultants and enjoy professional, authentic and personal consultation. With heart and soul we have the claim to support you in the design of your unique wedding rings with our configurator and to create unique pieces of jewellery.
THIS IS HOW THE VIDEO CONSULTATION WORKS
Expert knowledge for you
The best tips about wedding rings.