This is how 123GOLD works
Step 1 -
Diversity and inspiration
Choose your favorite model from our comprehensive catalogs.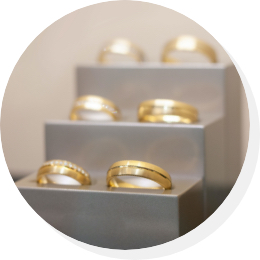 Your love is our passion. Your personal desires and ideas in everything related to your jewellery are in the center of our attention. With the help of our endless configuration possibilities, your dream rings come true.
Our catalog impresses with an incredibly wide variety of models, which serve as inspiration for you to finally reach your individual dream ring. We have both wedding rings made of gold - white gold, yellow gold, rosé gold, red gold - as well as Platinum, Palladium and recently also Tantalum. Whether we are talking about a simple pair of rings or wedding rings with a special design and elaborate stone settings - from classic to romantic, from simple to luxurious, from affordable to exclusive - we have something for every taste and every preference.
Discover the wedding rings now
Through our wedding ring configurator we will be able to best view the rings configured by you with so much love and thus we will be able to immediately make a transparent price calculation. Not only will we set up the most individual rings with you and produce them at the most famous manufacturers in Germany, but we will also deliver these unique wedding rings at the most attractive prices!
Make a consultation appointment now
Expert knowledge for you
The best tips about wedding rings.