PRECIOUS METALS AND ALLOYS
The right material for every need
Whatever material you choose for your wedding rings and jewellery: It will always be a mixture of at least two different metals fused together in varying proportions - pure gold is far too soft to forge durable jewellery.
For millennia, the beauty and symbolism of gold has captivated people. Gold jewellery has been made since 4000 BC. The word "gold" has Indo-European roots, here the word "ghel" stands for yellow and shiny. If you look inside a gold ring, you will find the letters AU marked there. AU is the symbol of the chemical element for gold and is derived from the Latin word for gold "Aurum".
Gold originally has a warm yellow color. This can be changed by adding, for example, silver, copper or palladium .
Gold is found in so-called primary and secondary deposits. Primary deposits are soils containing gold deposits. In secondary deposits, gold is found washed out of its rock mantle and deposited in the lowlands of streams and rivers in the form of fine gold dust or small grains combined with other heavy minerals. Today, the mining areas are in South Africa, Russia, North and South America, and Australia.
Warm and noble: this is how classic yellow gold presents itself. Its color and appearance are most similar to the original gold. The yellow alloy is created by adding copper and silver in almost identical amounts. 123GOLD offers you yellow gold jewellery in the alloy 333/-, 375/-, 585/-, 750/- and 916/- an. The more fine gold there is in an alloy, the more saturated and intense the color.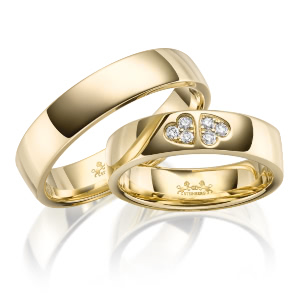 Green gold is an extraordinary contrast generator when different alloys adorn a ring. Green gold is particularly noble and elegant in our unique MokumeGane rings. Green gold gets its special luster from the addition of a small amount of cobalt. We offer you green gold in the alloy 750/-.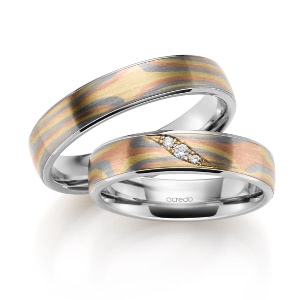 Wedding rings and jewellery in rose gold are romantic and delicate. The warm color is created by the higher admixture of copper.
Rose gold combines beautifully with white precious metals, but also makes a strong impression on its own and with diamonds.
123GOLD offers you rose gold jewellery in alloy 585/- and 750/-.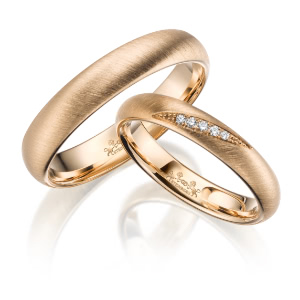 Extravagant and bold, red gold represents the blazing fire of love.
Like rose gold, it comes into its own when paired with white precious metals and supports them with striking accents.
Red gold contains a particularly high copper content, giving it a high hardness. 123GOLD offers you jewellery in red gold in the alloys 333/-, 375/-, 585/- and 750/-.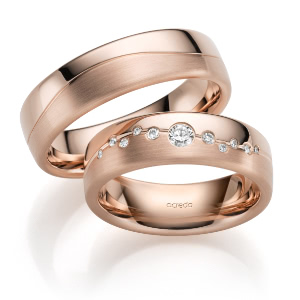 With the Signature alloy, acredo presents a warm yet noble shade of gold. The color, which is midway between rose and white gold, perfectly reflects the CI of the international brand. It is discreet and extraordinary. Combined with white or gray gold, it creates true ring dreams. Acredo Signature is available in fineness 585/-.
Gold looks cool and elegant in der alloy white gold. At the beginning of the 20th century, the idea of making jewelry out of white gold was born. In the past, nickel was added to gold to change its color. Since nickel is very allergenic, today manganese, silver, palladium or even platinum are used to be very exclusive. Depending on the composition, the alloys have different shades of color and prices.

To give the jewelry extra protection and make it shine even brighter white, it is rhodium plated, that is, covered with a fine layer of rhodium.
123GOLD offers white gold jewelry in alloy 333/-, 375/-, 585/- and 750/-.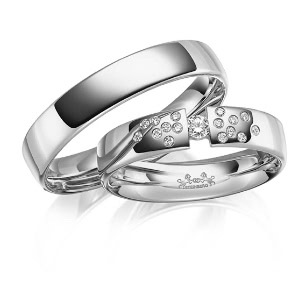 When white gold is not rhodium plated after processing, it retains its gray color and is called gray gold. You can get this beautiful variation of white gold from us in the alloy 333/-, 375/-, 585/- and 750/-.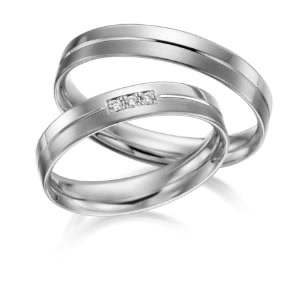 Engagement and wedding rings in bright and white alloys are cool and elegant. A modern alternative to classic yellow gold, white alloys are the perfect companion during your wedding. The noblest white alloys are platinum and palladium. They have a particularly high hardness, the so-called Vickers hardness.
The marks of daily wear do not appear too quickly on your jewelry and can be touched up without loss of material. Platinum is still considered the king of precious metals.
No other material exhibits as much white brilliance and heaviness as platinum.
For the small budget, stainless steel, palladium-silver or silver are wonderful alternatives that can fulfill the desire for white-colored rings.

But whether you choose silver, white gold, palladium or platinum: with an engagement and wedding ring in a white alloy, you always show courage for a modern look.
Thoroughly white and resistant: the quality of platinum is not only visible in its appearance and longevity, it is especially noticeable. A piece of jewelry made of platinum is impressively heavy and leaves a lasting impression.
It is rare and pure and has another important characteristic: its toughness. The marks that everyday wear inevitably leaves on a piece of jewelry do not wear away material with platinum, but shift it.
123GOLD offers you jewelry in platinum with a purity of 600/- and 950/-. With both alloys, the risk of allergies is negligible.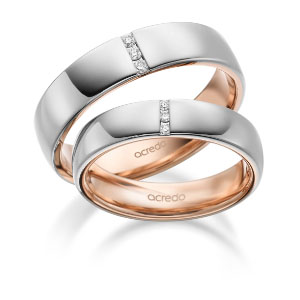 With a precious metal content of 97.3%, of which 950 is platinum, platinum gold is the purest alloy currently available on the world market.
Platinum gold (PTAU) has a fascinating texture and excellent material properties. The Vickers hardness is 270 HV for single-color wedding rings and 240 HV for multi-color wedding rings.
The allergy potential can be classified as extremely low due to the purity of platinum gold. In addition, it contains no alloy elements such as cobalt that can cause allergies.
Platinum gold is characterized by a beautiful white color. This allows gemstones and especially diamonds to shine in a unique way.
All wedding rings in platinum 950/- are manufactured by acredo exclusively in the exclusive platinum-gold alloy.
The River Platinum alloy, available exclusively from acredo, has 95% platinum and a yellow index of 7.0. This makes it the whitest existing platinum alloy for wedding rings.
The noble white color makes gemstones and especially diamonds shine in a unique way. The Vickers hardness of River Platinum is between 210 and 235 HV.
Unique and exclusive at 123GOLD: the world new alloy Platinum 777 of the Steinberg brand combines all the special properties of high quality platinum with an unbeatable price-performance ratio.
Compare the different platinum offers from 123GOLD and find your favorite.
Luxurious and resilient like all precious metals in the platinum group, palladium is something very special. It was only discovered in 1803 and is found mainly in Australia, North and South America, Russia and Ethiopia. Its good lubricating properties, hardness and beautifully shiny silver-white color make it a popular material for wedding rings. Due to high demand in the industry, palladium is currently the most valuable material for wedding rings.
123GOLD offers palladium jewelry in alloy 585/- and 950/-.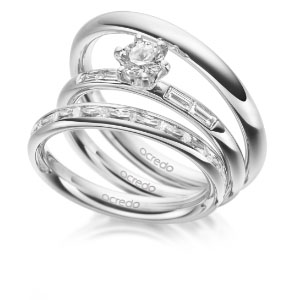 The tantalum alloy is purple-gray and steel hard. At 123GOLD, we have managed to forge this very rare and extremely difficult to work with material into incomparable wedding rings. Heavier than platinum and darker than any alloy you have seen to date. You should hold this extraordinary material in your hands yourself to experience its magic.
123GOLD offers you tantalum jewelry with a purity of 900/-.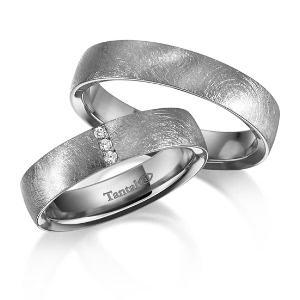 Precious steel is the more economical alternative to gold or silver and is very robust. Its hardness and insensitivity make it an ideal companion for every day of your life together. Stainless steel can also be perfectly combined with other materials, such as gold and carbon. Whether simple and inexpensive or extravagant and exclusive: with Stainless Steel you always make a good choice.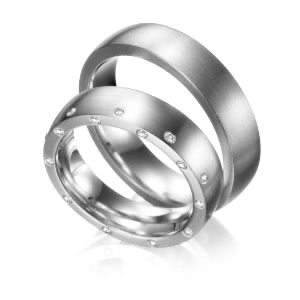 If you are looking for affordable wedding rings that still exude a bit of luxury, then palladium-silver is exactly what you are looking for. Silver is mixed with palladium, which makes it more hard. The colors also benefit from this: In this combination, the material is bright and white , this eliminates the need for rhodium plating to prevent tarnishing.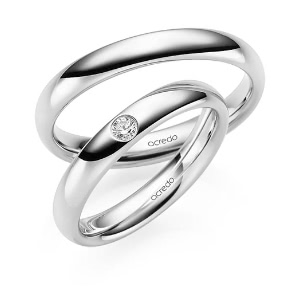 On request, you can obtain your configured rings as sample rings in silver 925/- from us. We also offer friendship rings, simple or elegant with diamonds, in this uncomplicated material, refined with a layer of rhodium.