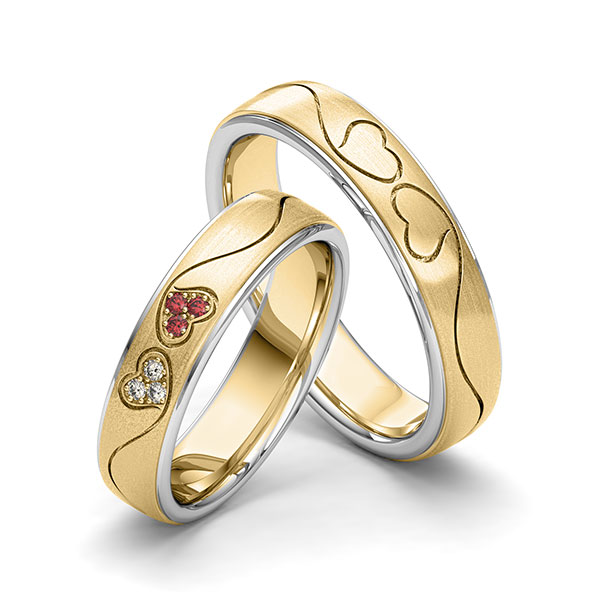 Reach for the stars! The possibilities are endless at 123GOLD! Not only do we offer infinite variation possibilities with gemstones with our configurator, at 123GOLD they are also extremely affordable.
The diamonds can be placed on the ring, on the side or even hidden on the inside of the ring.
You decide the number, size and quality of the diamonds to be placed. Based on more than 60,000 wedding rings sold each year, we have a wealth of experience when it comes to setting gemstones. You can choose from a number of standard positions, but of course it is also possible to have the diamonds set entirely to your own preference. Sounds complicated? Our staff will be happy to assist you!
Let the different possibilities take effect on you. A single diamond on the center of the ring is of course a classic. Depending on its size, it either comes across as discreet or is an eye-catcher. The same goes for multiple diamonds placed lengthwise or across the ring, side by side or scattered.
Princess or baquette cut diamonds have a bright, modern look. Of particular note are diamonds that adapt to existing joints or ring arrangements or are irregularly scattered like stars in the sky.
The way the diamond is set is also very important to the look of a diamond. The setting can make a diamond stand out better or detract from its beauty. For example, with tension setting, the diamond appears to float, while with incrustation setting, the diamonds appear to be completely absorbed into the ring. In chaton or claw setting, the diamond catches a lot of light making it sparkle more.
123GOLD stands for quality. That's why we only carry the best quality diamonds such as TW-SI (fine white with small inclusions), TW-VS (fine white with very small inclusions), TW-IF (fine white, loupe clarity) and the top quality diamond R-IF (river, loupe clarity). Of course, you will receive a certificate of authenticity with the diamonds (IGI, GIA or HRD from 0.30 carat).
Diamonds are relatively easy to maintain because of their hardness, but they attract fats and oils from cosmetic products. Therefore, here we have our best maintenance tips for your sparkling creations.
Other possibilities
Get inspired by our wedding ring rings.