Why we do what we love
LET LOVE BE UNCONDITIONAL
Unconditionally for you.

We are here to inspire the world to love unconditionally. To love without making counter demands. Therefore, out of deepest conviction, we put our counterpart at the center of everything we do.

Like any couple, we want one thing: we want our customers to be happy.
That's why our brand stands for real values. We leave out everything artificial, inauthentic. We are committed to allowing people to be who they are. No matter what skin color, what age or gender, what quirks and edges. Those who love properly are genuine, just like us.

That's why we celebrate love as it is best, with no strings attached.


Our passion lies in engaging with you. We are the brand where you buy what you want. You decide what that is. We put you at the center.

We will not change you, but support you to find the sign of love that expresses you. With us, no label interferes and distracts from you. This is reflected in our name.

So '123' symbolizes the stages of any love. The 1 represents the love of self, 2 represents the love of a couple and 3 reflects the love of a family.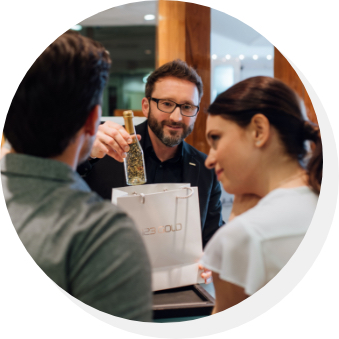 Your very individual personality, even peculiarity, is, from our point of view, the most beautiful thing there is. Love is boundless. Love is magical. Love is the most precious bond that unites us.
We create together with you your most beautiful wedding rings, the bond of your love.
In our stores, you will be welcomed by the best trained consultants and accompanied in the creative process.
With maximum enthusiasm and joy that you express your trust in us, we look forward to meeting you soon.
Make an appointment now
123GOLD is in the jewellery business, with over 100,000 sold
Wedding rings
and
Engagement rings
in the year,
Europe's largest wedding ring specialist.
123GOLD has also firmly established itself in the jewelry market in Austria, Switzerland and the Netherlands and is constantly expanding. As the inventor of the Wedding Ring Configurator we see ourselves as
Trendsetter
for
Wedding rings
. We use all our creativity and experience of more than 20 years to design unique pieces of jewelry together with you.
With us you will find the largest selection of
classic
wedding rings and
exclusive
" designs. We offer wedding rings for every budget, from
good value for money
to luxurious. At more than 60 jeweler locations throughout Europe, as well as in our online store you can enjoy the extensive variety and the highest
quality
of our wedding rings.
Engagement rings and friendship rings as well as jewelry - such as
Diamond earrings
,
Diamond pendants
,
Necklaces
and of course
Diamond jewelry rings
- are further fixed components of our collection. Here, too, you have numerous options for individual configuration. An incredible selection of excellent, internationally accredited
GIA certified diamonds
crowns the unique diversity of 123GOLD.
At 123GOLD you will find your dream ring or the appropriate piece of jewelry for every occasion. Express your love - whether wedding rings, engagement rings, friendship rings, partner rings or simply a piece of jewelry - 123GOLD's diverse, customizable products reflect emotions and memories. 123GOLD - as unique as love