Make a Statement with Platinum
Precious. Special. Pure.
Exclusive
Radiant
Durable
Platinum - Precious and noble
Platinum is the most precious and noble metal there is. It fascinates us with its white luster and palpable heaviness.

Its hardness, luster and purity make this precious metal so sought after. At 123GOLD, we love working with platinum. Therefore, we offer a unique variety with a total of four platinum alloys. An absolute plus for the design of your rings.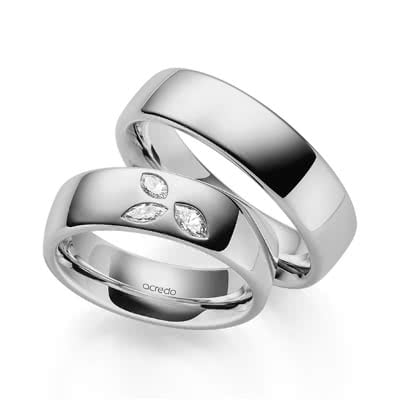 Platinum was probably used as early as ancient Egypt: Portions of the precious metal have been found in Ancient Egyptian jewellery. Platinum was discovered as an independent element in 1751 by the Swedish chemist Henrik Scheffer.

The alloy platinum 600/- contains 600 parts of platinum, platinum 950/- even consists of 95% pure platinum. Today, platinum is extremely popular in jewelry production. Anyone who has ever held a platinum ring knows why: The value of the material is immediately felt. Platinum is pleasantly heavy in the hand and feels very pleasant to the touch.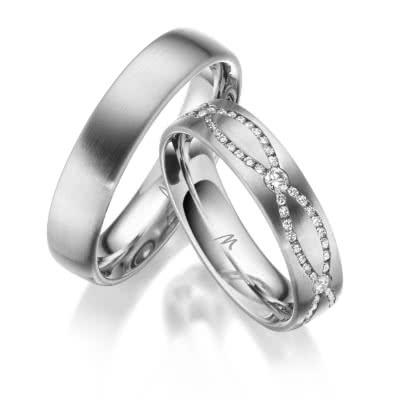 Particularly beautiful is platinum in combination with diamonds. It is no wonder that today the most exclusive engagement and wedding rings are made of this precious metal.

The Vickers hardness of platinum is very high - between 170 and 270 HV. Therefore, platinum rings are extremely robust. Especially for wedding rings, which are worn daily, this is ideal. Platinum combines beauty with durability.
Platinum - The best for your love
Bride and groom want the best for their love. That's why more and more couples are discovering platinum. It is the metal of kings. The acredo brand therefore comes up with a whole new platinum standard. With PlatinGold and RiverPlatin, acredo offers two innovative platinum alloys.

The incomparably high precious metal content of 96.8% in PlatinGold sets new standards and is even higher than in Platinum 950. RiverPlatin is the brightest platinum alloy currently available for wedding rings. As with diamonds, River here stands for the most beautiful white. The brightest precious metal for the most beautiful stones. An irresistible combination.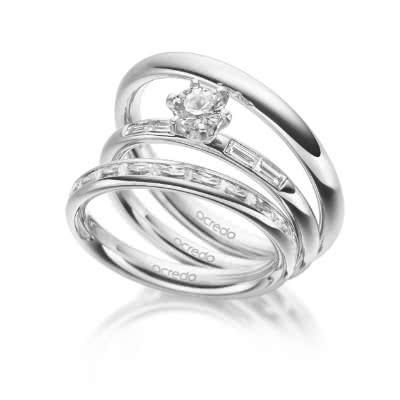 This alloy is the economical platinum variety with 600 parts of this rare and valuable precious metal.
The high-quality alloy with 777 parts of platinum and an unbeatable price-performance ratio. New and exclusive to Steinberg.
The alloy of kings with 950 parts of platinum, a fascinating appearance and pleasant weight.
The noblest platinum alloy with 950 parts platinum and another 18 parts gold. Exclusive to acredo.
The whitest platinum alloy for wedding rings with a yellowness index of 7.0, exclusive to acredo.