Made in Germany
CONDITIONALLY BEST QUALITY FOR YOU
Made in German manufactures.

Our wedding rings symbolize the magical bond of love. Marriage is a journey of love, growth and deep connection that no words can fully describe.

In marriage we experience moments together that touch our hearts. We experience the assurance that someone is by our side, whether we are walking on the crest of happiness or in the depths of despair. We find comfort in each other's eyes when we are sad, and rediscover the source of our own joy in each other's smiles.

From our deepest conviction, day after day, we create the most beautiful wedding rings for your love, using the most modern manufacturing methods and combining them with the traditional goldsmith's craft. Our exclusive manufactures have their headquarters e.g. in the gold city of Pforzheim.

Whether engagement ring, wedding ring or diamond jewelry, each piece of jewelry goes through a highly specialized manufacturing process. From alloying and turning into shape, from surface structure to setting valuable diamonds and individual engraving - at the end of each manufacturing process, quality control guarantees a flawless and timeless piece of jewelry, created by master craftsmen.

With more than 45,000 pieces of jewelry individually produced each year, symbols of unconditional love are created.

We say thank you for the trust and appreciation.
Extensive variety
Six strong brands to fulfill your desires:

acredo: Committed to sustainability. The international premium brand with uncompromising quality. Not only in the design of your rings, but also in the production, acredo combines tradition and modernity. acredo represents elegance with a certain naturalness.

Steinberg: The strongest symbols of love: lion strong with great impact. With imagination and passion for detail, Steinberg produces your individual and personalized rings in a state-of-the-art manufactory.

eternal touch: When extraordinary designs and exciting surface structures meet tangible quality. The rings of eternal touch convince with their high attractiveness and contemporary aesthetics.

Merii: Modern design for the big love and the small budget. At Merii you will find trendy, but also classic wedding rings, which often focus on the play with surface structures and colors. Unusual design ideas and materials are interpreted and combined here in a modern way.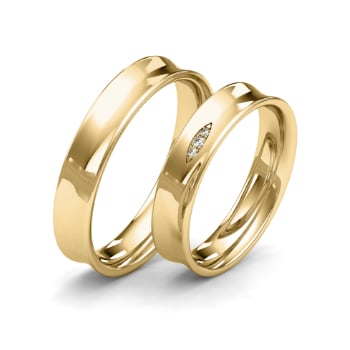 123GOLD: 123GOLD Quality is a concern for us. This is what drove us to develop our own private label. The collections of 123GOLD offer top quality at best prices. Our unique wedding rings and loving pieces of jewelry are made at selected manufactories.
BALDESSARINI: The renowned label stands for excellent workmanship of traditional craftsmanship and the finest materials. Werner Baldessarini created the brand named after him in 1993 and uncompromisingly combined quality of noble materialswith the best workmanship in unmistakable style as a luxury line of Hugo Boss AG.
The jewelry assortment at BALDESSARINI convinces through the use of exclusive materials of stainless steel, black and white diamonds. Exquisite qualities in first-class workmanship form the core competence of the brand and offer the highest wearing comfort!