Wedding ring categories
Color and precious metals
Advanced search
Alloys
All

950 Platinum

Platinum 777

600 Platinum

White Gold 750

585 White Gold

375 White Gold

333 White Gold

916 Yellow Gold

750 Yellow Gold

585 Yellow Gold

375 Yellow Gold

333 Yellow Gold

750 Red Gold

585 Red Gold

375 Red Gold

333 Red Gold

750 Rose Gold

585 Rose Gold

375 Rose Gold

333 Rose Gold

Signature Gold

950 Palladium

585 Palladium

375Gold

585 Gold
Color
Brand
All

All brands

acredo

Steinberg

eternal touch

Merii

123GOLD

Baldessarini

acredo Smart
Price
Sort




OUR STRENGTHS - YOUR BENEFITS
Wedding ring production
Made in Germany
Professional advice
advice
Best quality
the best price
Inventor of the
Wedding Ring Configurator
Numerous customisation
-possibilities
Large variety of
of products
Online inspiration and shopping
and shopping
Includes free
premium case
At more than 60 locations


Dream wedding for same-sex couples
Getting married is also the most normal thing in the gay and lesbian community. With the wedding you give your love an official and legal framework. By registering with the civil registry, you help to increase the recognition of gay marriage and make a small contribution to social emancipation.
The symbols for eternity -
wedding rings for same sex couples, wedding rings for you and yours
The wedding ring was interpreted in ancient times as the symbol of infinite love. Although today the ring is largely worn on the right ring finger, wearing the wedding ring on the left ring finger was a sign of eternal love and loyalty among the Egyptians and Romans. As the most important sign of the wedding, he should remember this special day for life: the wedding ring. As a sign of love, loyalty, solidarity and as a promise of cohesion, it has a meaningful symbolic character.
Diversity for the
"wild" marriage
We focus on your personal wishes and ideas. With our infinite design options, your ring dreams become reality. Whether it's wedding rings for gays or wedding rings for her and him, the configurator for wedding rings of 123GOLD not only offers you infinite design possibilities, but is also market leader thanks to the photo-realistic display and immediate price calculation of your designs. From classic to romantic, from simple to luxurious, from cheap to exclusive - in white gold, yellow gold, rose gold, red gold or platinum - our ring models are excellent inspirations. The wedding ring is completed with one or more set diamonds. It gives every piece of jewellery that something special and has a fascination that almost no one can resist. As a wedding ring and diamond specialist, 123GOLD offers only the finest stones of the best quality.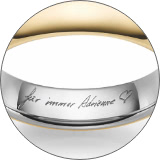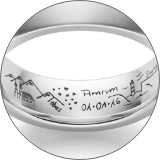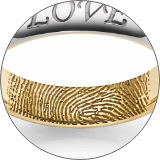 With an engraving the lovingly designed partner rings or wedding rings for men or women become an absolutely personal piece of jewellery. There are no limits to your engraving. If you wish, you can add a symbol such as a heart, the infinity symbol or the double rings with a text (for example your partner's first name and the wedding date). Make your rings even more personal with a handwriting laser engraving. This way your handwriting can be exactly reproduced. Hide a message of love in your rings or use the engraving as a design element for the outside. A special type of engraving is the fingerprint. Whatever type of engraving you choose, it is always an expression of your very personal connection.
We are the specialist for engagement rings, wedding rings, memorial rings and diamonds. Our advice is professional and authentic. With our variety of models we offer a special experience of wedding rings, you will find us at more than 60 locations in Germany, Austria, Switzerland and the Netherlands. Everywhere we take enough time for your wishes and ideas. Made in Germany - Each of your unique pieces is manufactured by the leading manufacturers in Germany. In our configurator you can see the current price every time you change your rings. We do not only design the most individual rings with you. We also deliver these unique dream rings at the best price!