Wedding ring categories
Color and precious metals
Advanced search
Alloys
All

950 Platinum

Platinum 777

600 Platinum

White Gold 750

585 White Gold

375 White Gold

333 White Gold

916 Yellow Gold

750 Yellow Gold

585 Yellow Gold

375 Yellow Gold

333 Yellow Gold

750 Red Gold

585 Red Gold

375 Red Gold

333 Red Gold

750 Rose Gold

585 Rose Gold

375 Rose Gold

333 Rose Gold

Signature Gold

950 Palladium

585 Palladium

375Gold

585 Gold
Color
Brand
All

All brands

acredo

Steinberg

eternal touch

Merii

123GOLD

Baldessarini

acredo Smart
Price
Sort




OUR STRENGTHS - YOUR BENEFITS
Wedding ring production
Made in Germany
Professional advice
advice
Best quality
the best price
Inventor of the
Wedding Ring Configurator
Numerous customisation
-possibilities
Large variety of
of products
Online inspiration and shopping
and shopping
Includes free
premium case
At more than 60 locations


Wedding rings in rose gold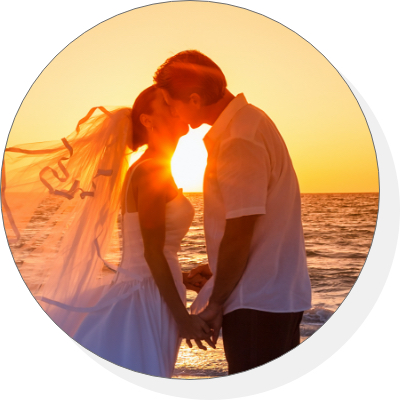 It has become a trend and a classic for a number of years now: wedding rings in rose gold are at the top of our bestseller lists. Rightly so, we think, because: rose gold is the charming material for romantic wedding rings. The noble gold alloy ranges from light pink to a warm apricot colour.

The colour nuances are created by adding a touch of copper to fine gold. Discover rose gold wedding rings in our unique 123GOLD collections and fall in love with this high-quality, glamorous and timeless metal.
Rose gold rings for eternity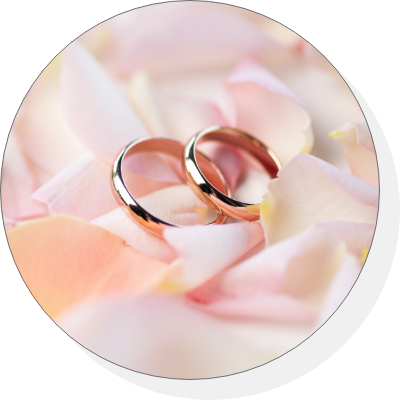 We don't promise too much when we say: rose gold rings are like love, for eternity.
alloy
and the fineness. 123GOLD offers jewellery in different purities and finenesses. Choose between rose gold 333, 375,
585
and
750
. The
fineness of an alloy (mixture)
is given in a ratio of 1: 1000.
It indicates the percentage of fine gold in the total weight. The higher the value, the more fine gold is added to your rose gold rings. How popular rose gold has become in recent years is shown by the fact that smartphones, clothing and
jewellery made of rose gold
are extremely popular. This is certainly due to the fact that rose gold wedding rings have a soft and charming appearance and suit every skin type.
Unique design possibilities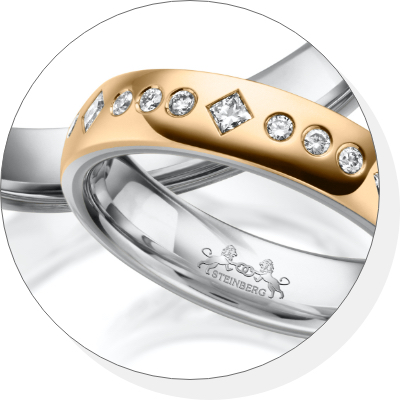 In addition to the many benefits already mentioned, the popularity of rose gold wedding rings is due to their unique ease of combination. Almost no other alloy has such a unique and graceful effect. Combined with white precious metals or a high-quality diamond, rose gold wedding rings look even more elegant and noble. If you want something more extravagant, take a look at the endless design possibilities, such as the finishe structure: rose gold wedding rings with a matt finishe look more sporty, the fine structures running across the ring. Ice matte ring finishes are very popular - the finishe of rose gold rings resembles an ice crystal structure and thus appears wild and somewhat worn from the start. Hammered rose gold rings are equally special. With the help of a special hammer, the desired, unique structure is created.
Explore finishes
Discover two-tone wedding rings
Design your rose gold dream rings with us
Have you ever thought that rose gold wedding rings are only for women, that rose gold is the colour of girls? Our rose gold rings for men show the opposite. They also look great on any groom - convince yourself and discover our rose gold rings for women and men. Our collections offer you a wide selection of individual wedding rings.
We manufacture your rose gold rings according to your wishes in Germany and always keep an eye on your budget. Whether exclusive or inexpensive rose gold wedding rings - with us you configure your rings according to your wishes and your wallet. Try our configurator and convince yourself of the best quality at the best price.

Best quality for the best price - Made in Germany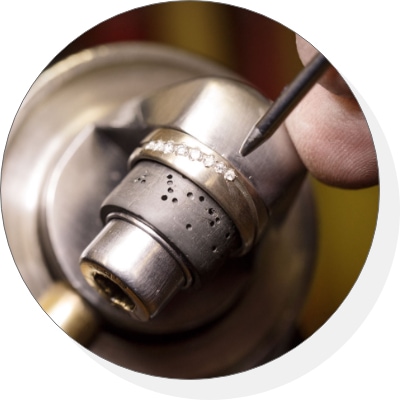 Trust when buying your gold wedding rings at 123GOLD, because your love is our passion. We focus on your personal wishes and ideas. Our personal advice on more than
70 locations
in the Netherlands, Germany, Austria and Switzerland or our online shop are unique - just like the endless design possibilities: we manufacture each of our models according to your ideas.
We guarantee the best quality at the best price and production at the most renowned manufacturers in Germany. Discover your affordable gold wedding rings at the number 1 wedding ring specialist - test our
online configurator
, be creative and visualise your rings. Give free rein to your freedom and be inspired!
The 123GOLD wedding ring collection in roseégold
Roseégold is all the rage and is one of the most popular colors for wedding rings. High-quality, glamorous and timeless, Roségold is always the perfect choice for gorgeous wedding rings. The Roségold collection from 123GOLD shows an unbeatable variety of Roségold wedding rings. Get inspired by our Roségold catalog and use our wedding ring configurator to customize your perfect wedding rings.